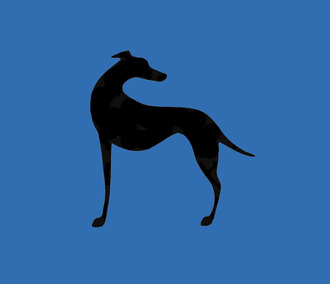 Steve
Owner and Trustee, established the kennels with Sandra in the late 90's. When the site was first purchased Steve stayed on site 24/7 sleeping in the kennels with the dogs or in the van on site. Over the years Steve has worked tirelessly with Sandra to make the site 'Clarks Farm', fighting many barriers and planning regulations along the way.
Through sheer grit and determination, eventually Steve and Sandra succeeded, eventually making the kennels the site it is today, with constant development ongoing.
Regular visitors to the kennels will recognise Steve as he's notoriously shouting (due to his deafness) and moaning about all the important things that we have no control on, but we love him for what he has achieved and the number of hounds we have rehomed inbetween.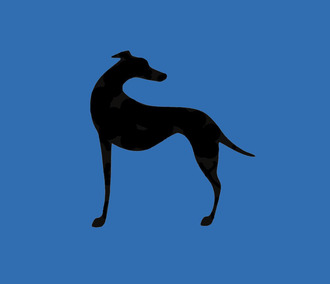 Sandra
Long suffering wife to Steve, providing continued support and advice with years of knowledge of dogs in general.
Solely responsible for getting the family involved in greyhounds after purchasing Steves first greyhound in the early 90's.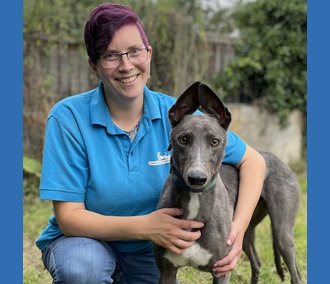 Hannah
Centre Manager Hannah started work with us at the start of 2020 after leaving her role as Supervisor and Head of Exotics at Hopefield Animal Sanctuary. Hannah has worked around the world with a wide variety of different animals. Having done a little bit of everything, she is an experienced animal handler having worked in wildlife rescue and rehabilitation, and zoo keeping, for many years. But after all that excitement and adventure, she decided to become a greyhound slave like the rest of us! We aren't sure what took her so long to realise that working with dogs is the best!
Generally always heard before she is seen; Hannah is easily spotted by her bright purple hair. She can usually be found chained to the desk doing paperwork, but she likes to find any excuse to escape to get stuck into projects, tidying or organising improvements around the Centre. Hannah overseas all aspects of the dogs husbandry, rehoming and also manages the social media pages and private facebook groups. She takes pride in ensuring each greyhound finds the best home possible for their individual needs and continues to support them and their new families with behavioural advice whenever needed.
When not at the centre, Hannah is out visiting local parks with the greyhounds working on their socialisation and training to help them find their forever homes! A total workaholic, we struggle to get her to take days off!
Hannah is proud to be the head of such an amazing and suppportive team that love their work and the dogs. Together they have made great strides to improve the Centre and are constantly looking to do more to improve the dogs care!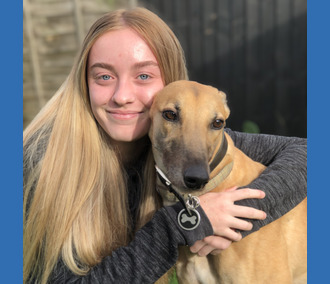 Aimee
Kennel Hand Aimee joined us in mid-2020. Having originally studied to work in childcare, Aimee made the move to join the team as a volunteer after her family adopted their third greyhound!
Aimee has always felt a deep connection with the greyhounds, and since joining the team she's never looked back. She has become an invaluable help in caring for the greyhounds. Hard working and happy to get her hands dirty you can really see just how much the dogs light up when she comes into work each day!
When Aimee started spending as much time at the Centre as the staff, she became a permanent fixture like the rest of us. The dogs always look forward to her coming in as they know they are going to get an even greater amount of cuddles and pampering than usual!
Not long after starting with us, her and her family took on kennel favourite Draco as a foster...which inevitably failed! He is now living the most spoilt life in his forever home with them, as their fourth greyhound! We aren't kidding, they get Sausage Saturday and a full roast on Sundays! Absolutely spoilt rotten!
Though, knowing they can't possibly fit another one in on a permanent basis. She fosters some of our hard to home dogs to help them prepare them for their forever families.
Whenever Aimee is in she handles a big portion of the dogs husbandry so that Hannah can crack on with her dreaded paperwork! One of Aimee's many talents is her ability to walk the entire kennels with amazing efficiency! She can always be counted on, no matter the task!
We don't know what we'd do without her!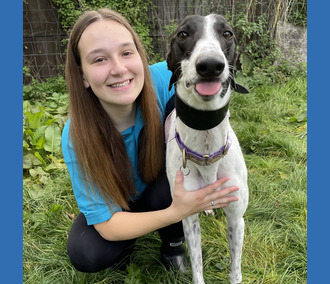 Chia
With everything still so super busy at the kennels post-lockdown we needed an extra pair of hands, and we were lucky enough to welcome Kennel Hand Chia to the team toward the end of 2021!
Chia came to us from a busy boarding kennels in Norfolk, so from the minute she walked in she knew exactly what to do and just got stuck in!
It's as if she has always been here and has made herself an invaluable addition to the team. Gelling with the existing staff straight away, she's really completed the team, and everyone is always so happy to be at work! The days fly by...often with her and Aimee in at least one state of uncontrollable giggles!
Her efficiency knows no bounds and she can always be trusted to keep everything clean and tidy. It has made the world of difference having her on board!
With a soft spot for the naughty greyhounds, Chia is very passionate about all dogs and is a proud Labrador and Spaniel mum...although maybe that might change to a proud greyhound mum soon...? With a background in obediance training and competitive dog agility, it's probably been a bit of a shock making the move to work with greyhounds who don't really give a monkeys about obediance! We are but the greyhounds servants...they are the masters!
But, regardless of this, she loves them all the same and her mission is to ensure that the dogs get the best in life. Full of ideas and suggestions from her previous experience, she's helped bring fresh eyes to the Centre to help install some much-needed improvements!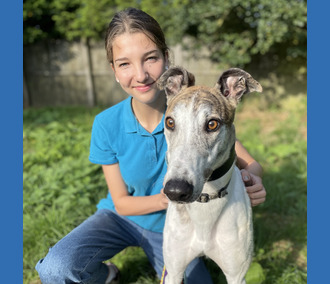 Eden
Our weekend Kennel Hand Eden, who started working with us after an exceptional week of work experience, is endlessly reliable and cares greatly for all the dogs.
Weekends are a busy time for us at the with viewings and adoptions, but we know, with Eden on hand, everything goes smoothly. She loves a good deep clean and organising anything she can get her hands on! The daily to do list doesn't stand a chance when she is in, she just smashes it!
Looking toward a career in Psychology, Eden is a bright and amazing person. It's impossible not to like her as soon as you meet her as you can just tell what a passion she carries for the dogs and in providing the best to them.
Despite her young age, her enthusiasm and dedication never wanes. She is an invaluable help and frankly, we don't know what we would do without her! She really is like a one-woman army and all the dogs love her!
She is an exceptional young woman and a real asset to the team!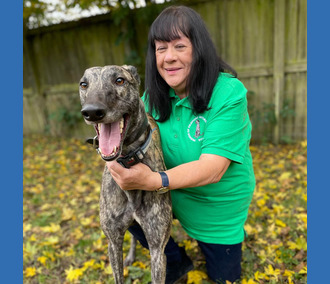 Mandee
With 3 of her own retired racers at home, Mandee's love for greyhounds started at a young age. Involved in the racing industry since the 70s, she became actively involved with Friends of Crayford Retired Greyhounds (FoCRG) in 1994 when she took over the Coordinator role for Clarks Farm.
Mandee ensures that the dogs come into us in the right rotation so that each Trainer has space to retire their dogs. By overseeing the process, the dogs come into us with all the relevant paperwork, information, as well as a donation toward their care from the Trainers.
Although not working on site, Mandee is an invaluable member of the team. Working away behind the scenes. On top of her own full-time job, she does fundraising, stalls, raffles, dog shows, ordering stock and creating gifts that we sell here in our shop, helping at the trainer's kennels, transporting dogs up to us at Clarks Farm and helping in every other aspect possible! She really is wonder woman!
We have also rehomed many of her own syndicate retired racers (since she can't physically fit anymore into her house!) and you can really see the high level of care and the love that each dog has been given because every single one has gone on become the most amazing companions in their forever homes without a hitch. Mandee has continued to stay in touch with the new owners of her racers and is always there to support them if need be.
We couldn't do what we do without her and are so grateful for her help, but not more than the dogs themselves who's retirement and movement to us here at Clarks Farm is always smooth sailing because of her input.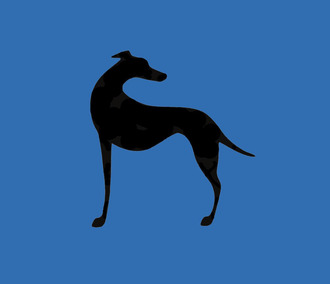 Our Volunteers