EVENT DETAILS WILL BE ADDED THROUGHOUT THE YEAR.
PLEASE KEEP CHECKING THIS PAGE.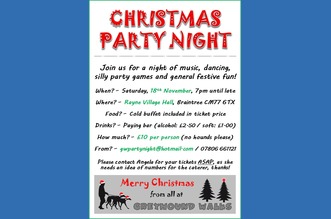 Greyhound Walks Charity Christmas Party
Rayne Village Hall, Braintree, Essex. CM77 6TX
Saturday, 18th November 2017
Greyhound Walks is an independent charity that provides financial support to not only Clarks Farm Greyhound Rescue, but many other greyhound rescues too. You wont get a better opportunity before Christmas, to have a good time and help greyhounds at same time.