This page is dedicated to the memory of Greyhounds we have loved and who are, unfortunately, no longer with us.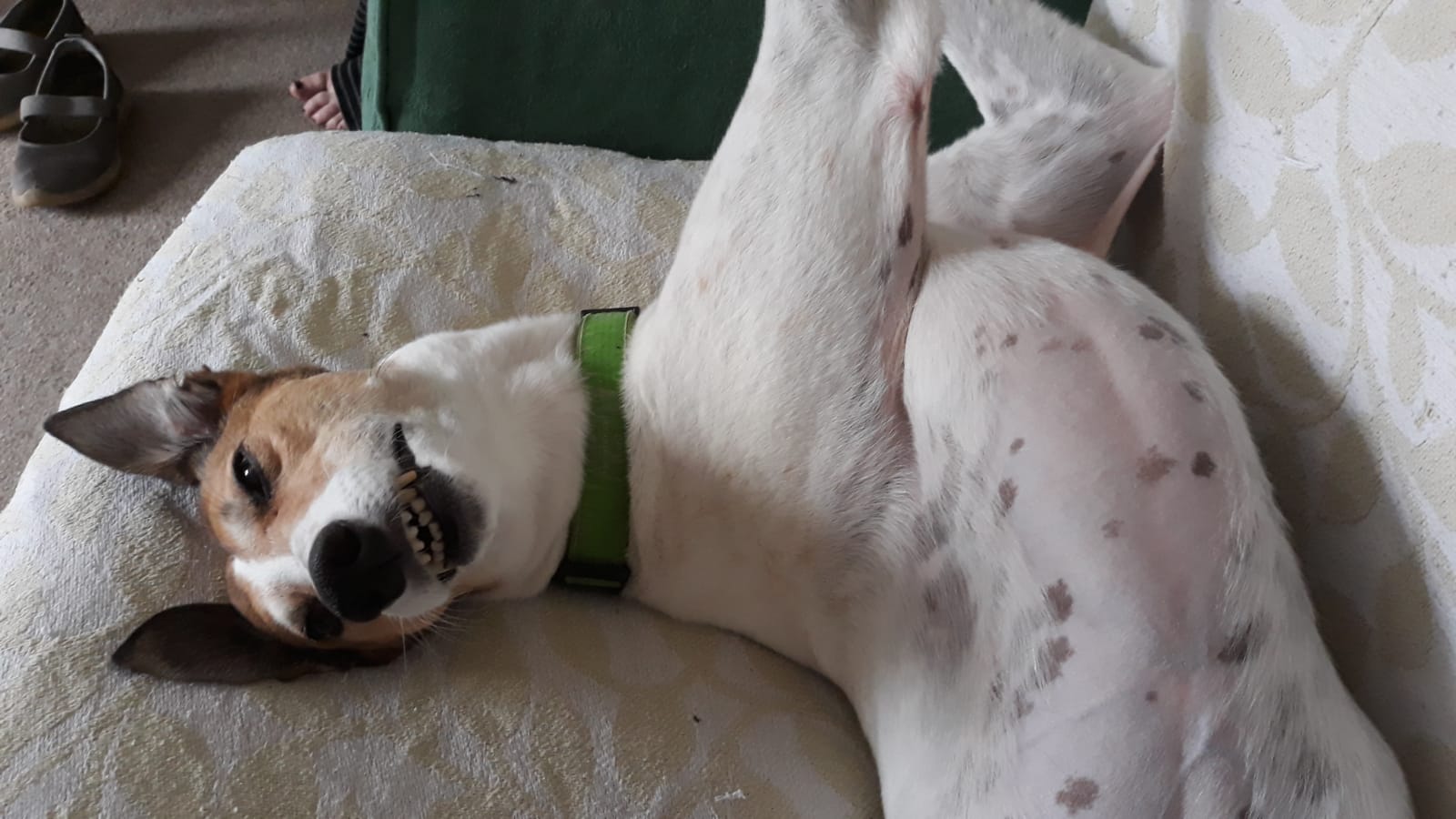 We have said our loving farewells to Millie, our gorgeous litle girl.
Cancer claimed her at only 7 years old.
Such a loving little girl who will be surely missed as a member of our family.
She was like a tornado around te house and garden but once she'd had her mad moment she just wanted to curl up with her humans n the sofa.
She will be sorely missed, she will be in our hearts forever.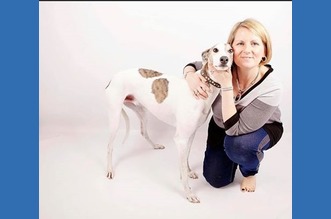 12/8/2009 - 26/1/2020
Just wanted to let you know that our lovely & very gawjus Rocco, Kilgraney Rocco , adopted from you in 2012 , passed over to Rainbow Bridge earlier today . He truly was the most special boy and we have loved him so very much , each and every day . He truly was a gentle giant and suffered terribly with corns from the moment we brought him home . Type 'Handsome Greyhound' into Safari Search bar , scroll down, and you will See his beautiful face . As a family , we are utterly heartbroken today, his Sister , Beau (Judy- Musical Data) adopted from you a year later, has to adapt , like we do, to life without Rocco. He was my first Fur Baby, and I'm struggling . Here are some photos in case any of you remember by gawjus boy . Just thought I'd let you know .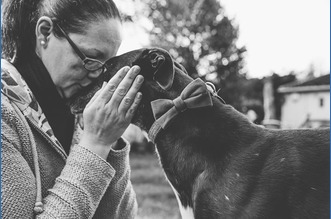 Lordsbury Hera 'Hera' 19.4.13-11.10.19

Hera came home to us after a short racing Career retiring due to an injury. A friend for Jack (Zenus Houncho also a Clark's Farm Grey) Hera was a very quiet and gentle lady with a beautiful soul. A very short and unexpected illness saw her leave us over the Rainbow
Bridge after just 3 years of being with us and at only 6yrs of age. A great hole had been left in our lives and our hearts are broken
We will treasure our time we had with her and our memories of Hera with stay with us always
Run Free Forever Beautiful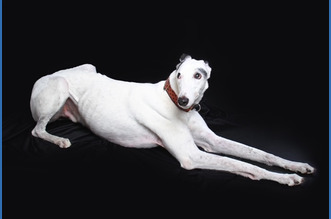 After spending 6 months at clarks farm we were the lucky people to provide "BULLSEYE" ( Billy Bullseye ) with his "forever home" at the age of 3.
He was a true "Gentle Giant", and such a friendly boy who wanted to greet anyone who came to the house. He was always very laid back and happy ( Fireworks? whats that noise, oh its ok, Mum & Dad are here, so back to snoozing!).
He spent some time as a PAT dog in a local school as part of the "Read to Dogs Scheme". Although, of course, slowing down in later life he still enjoyed some walks and particularly his sniffs and was still on the alert at meal times for any treats including his favourite mackerel skins!
The house is very empty without him and we miss him terribly but realised we were blessed to have dear billy in our lives for many years. Rest in Peace, " Billy Bullseye".
All our love
Arthur & Carol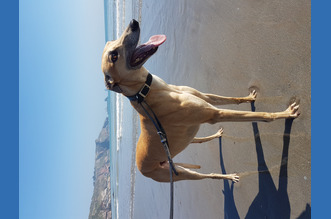 Lego came to us five years ago oddly by a bet with my oldest as keeping on about a dog for months. If he scored he could have a dog and this is how Lego, 3 years old came into our lives. He sadly passed away at a very young age of 8. He had a fantastic retirement with us and was loved very much by all, especially by our boys, now aged Thomas 16 and Daniel 12.
He enjoyed many lovely holidays and different walks across Essex. Always an adventure for him.
He will be dearly missed.
Simon, Nikki, Thomas & Daniel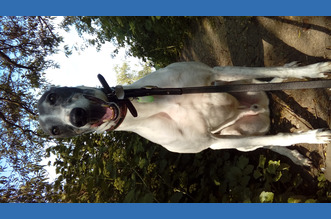 We rehomed Ned on the 30th May 2012 after we lost our Missy (Vicarsview Missy) he was a big soft boy, who loved people and dogs equally, his tail never stopped wagging and could knock you over with his greeting.
He knew how to mug complete strangers for treats, sniffing them out at 2 paces, and once sat down in front of a complete stranger in a shop because he had a handfuk of treats she was buying for her dog!
He never forgot anyone who gave him a treat either.
He leaves a huge hole in our lives and our hearts and will never be forgotten.
Love
Carol and Paul Burton
Our beautiful, beloved Cindy (SneezysJess) is now at Rainbow Bridge
She joined our family of myself, Jason, my partner, and our German Shepherd Strauss back in 2017. Cindy was our first Greyhound and was truly a perfect pet in every way.
We loved you so much sweet Cindy, and hope to hug you once again in heaven. No more pain from bone cancer, just pain in our hearts…
1/10/12 to 5/10/22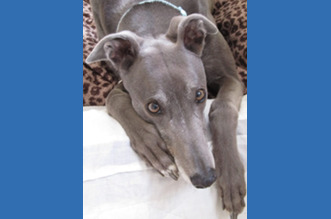 Netty – Tonetta Form – 17 Jan 2013 – 21 Nov 2022
It is with much sadness that our courageous Netty passed away on the 21 November 2022 having suffered from Alimentary Lymphoma. Netty brought much joy and laughter to our home and was the perfect companion. Her gentle soul, intelligence, happy and loving nature won her many friends in both humans and dogs. Always welcoming, always happy and content, always inquisitive and wanting to be part of everything. It was such a privilege to share our home with her and watch her develop from tom-boy to lady. Netty was much loved, will be greatly missed and leaves a gigantic hole in our hearts. Run free as the wind Netty and thank you for enriching our lives. You will never be forgotten and will always remain in our hearts. All our love Colin and Claudia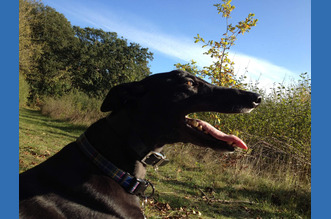 We adopted Charlie in November 2017. Our first family dog, On the day I collected him I remember sitting in the office waiting for him to be brought out and he practically tried to get on my lap when he saw me, so excited was he, and from that day we bonded and he became my shadow.
He was a large and handsome lad, a little bit awkward in his own skin but such a gentle fellow which our cat took advantage of at times!
He soon got used to living in a house and quickly claimed his spot on the sofa and worked out how to jump up and let himself out of the doors into the garden. He would also pick up his water bowl from the kitchen and bring it to us when he was thirsty. So excited was he to see me when I arrived home he always helpfully ran off with my slippers!
We enjoyed our walks together on favorite local routes and he did enjoy a run and his zoomies around the garden, he was a regular at our local pub and had his special cushion to lay on under our table.
He was part of the family and much more special than I think we realized and little did we know he would be taken from us so young, due to a spinal tumor, sadly only 5 years old.
Although we are devastated and he has left a huge hole, It was a privilege to have had Charlie for that time, he brought us so much joy and we made memories we will forever cherish.
Rest well Charlie all our love Jo, Steve, Thomas, Georgina and Muriel xxx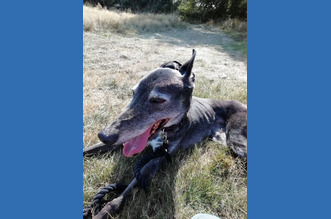 15th January 2007- 26th January 2021
I thought you would like to know that I lost my beautiful baby last week, she was known in racing as Emma's Quest, I renamed her as Beanie. She had just celebrated her 14th birthday and we had 10 glorious years together. She was and is the absolute love of my life and I miss her terribly. She was my first greyhound and I loved every minute of being her mum. Thank you for bringing her into my life and for everything you do for all greyhounds and all greyhound parents.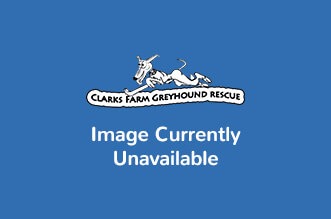 We regret to inform you that our greyhound Milo (Milograph) who we rehomed from you in September 2011 was put to sleep on Friday 22nd May 2020. He was nearly 13 and had suspected kidney disease.
He had a very happy retirement and will be sorely missed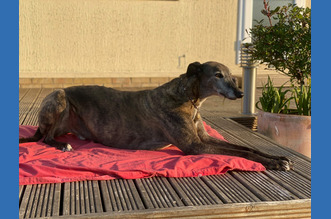 Our beloved Styg (Lordsbury Onion) passed away peacefully at home this afternoon - 28/04/2010 to 28/02/2021 - a brother for our brindle Lucy. We got him from you 10 February 2012, our faithful loving brindle boy. We moved from Needham Market to a smallholding near Ely, Cambs. in August 2015 so he had a very happy, active life with lots of land to run around on and fresh air. He will be loved and remembered as our faithful friend and in our hearts for ever. It was very sudden and came as a great shock, running round and being his normal mad self only yesterday. Thanks for offering him to us xx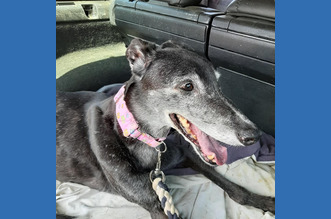 25/07/2005 - 09/05/2020
A huge hole has been created in my heart as we said goodbye to our gorgeous DeeDee. Such a gentle girl who loved saying hello to everyone and the most cat friendly hound I have ever come across.
Sleep tight sweetheart, we will miss you so much. Reunited with your partner in crime, Mel, at the Rainbow Bridge.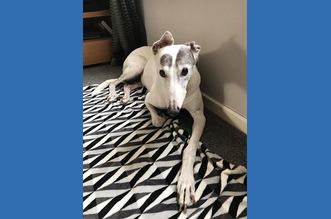 Hi,
unfortunately we lost Molly after having her for 10 years. I would love it if you put her photo on the website. We will miss her so much. I remember the day we first met her at Clarks Farm and we have loved her unconditionally since that day.
Thanks Sam & Richard Harvey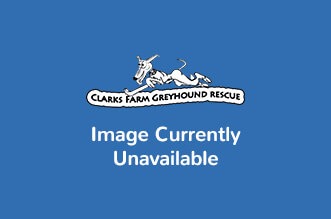 I am very sad to tell you that Rocket ( ROCKET RED) passed to the Rainbow Bridge on Thursday. I t would be hard to find a more gentle and loving dog. He loved all furry creatures and his special friend was the fox who visited regularly. It was a joy to find them nose to nose on each side of my glass door. He liked nothing better than to walk with his girlfriend, Droopy Dog, another Clarksfarm greyhound.
As a care dog with Canine Concern he visited Beaver Scouts and a nursing home. He came to work with me until i retired and became a great favourite with staff and visitors alike at the Cater Museum. He bravely battled cancer for more than four years and reached the age of 13 thanks to the great care he received from Edgewood vets and homeopathic vet M.Schmidt.
Rest in peace my beloved friend. i will miss you x
Chris Brewster.
£80 kindly donated to Clarksfarm in memoryof Rocket from his American Aunt Linda.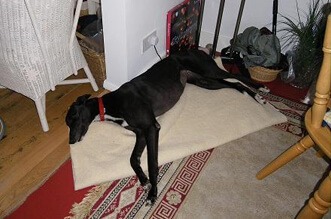 Peanut (Red Letter) thank you for the last 7 years our lives are richer for knowing you. Our hearts are broken but you are now pain free flirting with all the ladies at the rainbow bridge. Have fun my gentle giant xxx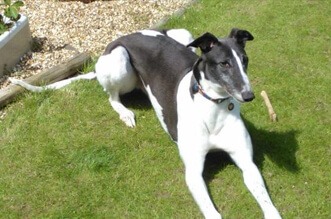 Lolly, you have given us 7 wonderful years. Safe journey over the Rainbow.
Michele & Kevin Marsh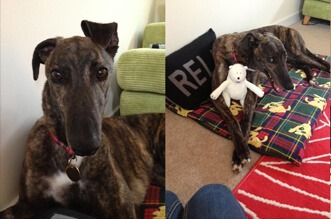 ZIPPY (Newlawn Zippy)
From race track to 7 lovely years with us, now with 2 cats (in the photo with him) and 2 dogs, playing on the big race track in the sky. From all the people who knew him from the cliff top rescue team and all his dog and human friends, Eileen Roper and Family. xxx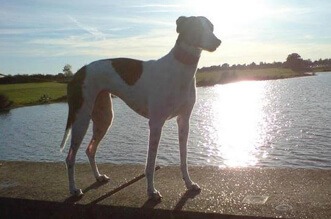 My lovely hound sapphire passed over the rainbow bridge after suffering a stroke while she was asleep. I got her from yourselves back in 2006 and it was the best thing I done. She has been there for all the good times and the bad times, but I believe she's had a good life and couldn't of had a better dog, Thank you. Carl Cook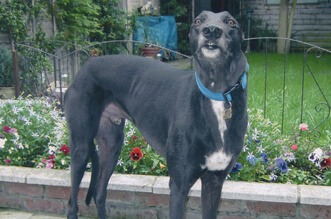 Gone to the big dog track in the sky aged 13 years and 7 months.
We have so many loving memories of our cheeky chappy and we were blessed he chose us. He has left a huge hole in our life.
'Running Free'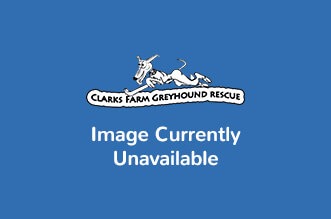 It is with great sadness I need to let you know that my Ginnie (Formerly Baystreet Ginge) passed away on 30 April 2016. Ginnie was a long stay resident with you, extremely nervous when we first met in 2012. It was when I was emailing to let you know that my little girl Tilly (Hong Kong 4) had passed away that Ginnies picture kept popping up on my screen. I made an appointment and only wanted to meet with Ginnie, it was fate. Steve remembered me from a funeral donation made in my sons memory in 2010, we arranged for Ginnie to come home with me within the next few days. We moved home in January 2015 and this enabled Ginnie to have a much larger garden where she had her friends round to have a play. Ginnie was so loving and extremely devoted, although we were only together for 4 years, we overcame her nervousness and her confidence grew and grew. Ginnie was taken far too early due to a very aggressive cancer which only became apparent in February. Although my heart is broken I am grateful for the time Ginnie filled my life with such love and joy. To others looking to adopt, please do not be put off by those who are considered long stay homers, they too are full of love.
Kathryn Pitcher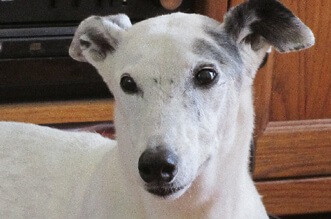 It was with great regret that we made the heart breaking decision to say goodbye to our beautiful girl due to her arthritis and muscle deterioration reaching a point where current medicine was unable to help anymore.
We first met Erin on 02/08/2009 amongst a gang of her boisterous kennel mates who had all travelled to Dorset on a day trip to find their forever homes. She chose us by placing her head on my shoulder and we quickly bonded. In her new home she became a much loved family member and wonderful companion who achieved celebrity status in our neighbourhood for being the graceful, friendly and charming hound that she was. Every day with her was an adventure of which some memorable occasions included falling in the river, getting entangled in thorn bushes, refereeing a disagreement's with a swan and dealing with a gate that nearly cut her tail off. She would never jump in/out of the car; just waited to be lifted in and we always would! Erin was a quite and gentle family member who filled our lives with happiness and fun and will be greatly missed by all who knew and loved her. Always in our hearts and forever walking along side us in spirit.
Sleep well my sweet-pea.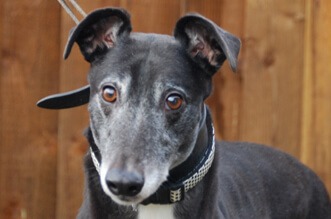 It is with an extremely heavy heart that we have to say goodbye to one of our special boys.
Sid came to the kennels directly from Hove with a minor injury that prevented him from being able to race and reach his full potential. He was with us for many years and as well as being one of the team and family member he also became one of our sponsor dogs for a short period until finding his forever home.
He was my special and gracious boy who will be forever missed,
Sid, may you now run free from pain over the rainbow and find those bloody squeekers!!!
All our love, forever
Dean and the team at the Kennels xxxx.