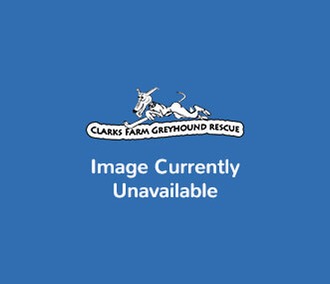 Collar and Lead Set
£20
Sighthound fishtail collar and lead set made from leather. Hard wearing and long lasting, the lead is a buckle rather than a clip for added security on the collar.
Handmade colourful or patterned pet collars also available from £8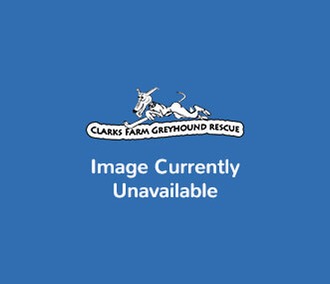 Basket Muzzle
£10
Mixed colour basket muzzles suitable for all greyhounds and other similar sized sighthounds/breeds.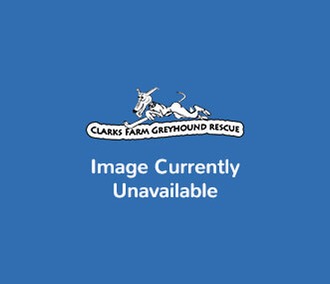 Rain Coat
£25
Fabric lined (unpadded) simple rain coat for sighthounds ranging 26-30. Nice spring/summer coat for those rainy days without worrying about overheating your hound!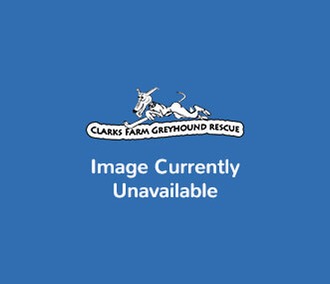 Fleece Coat
£22
Basic fleece coat for Greyhounds or other sighthounds ranging sizes 24 - 32.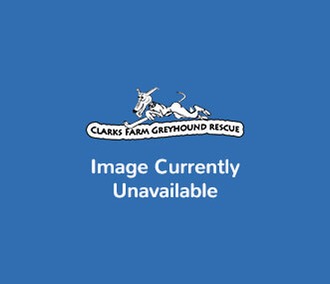 Lightweight Waterproof Coat
£28
Fleece lined waterproof coats suitable for sighthounds ranging sizes 24 - 32. These are a versatile coat suitable for most weather throughout the year.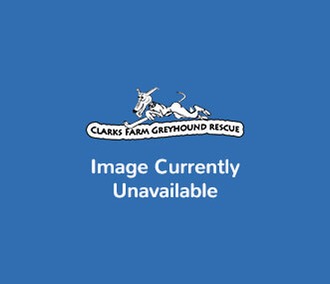 Winter Snood Waterproof Coat
£38
Thick padded waterproof coats suitable for sighthounds ranging sizes 24 - 32. These are winter coats ideal for the colder months!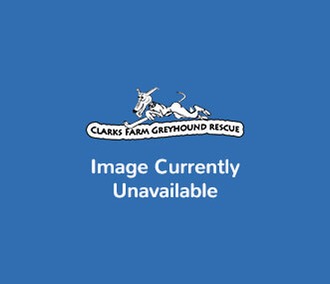 House Collars
£10+
We have a lovely colourful range of house collars, handmade by local small business owner Jayne. They come in standard, wide and martingale styles and are fully adjustable for a range of greyhound neck sizes!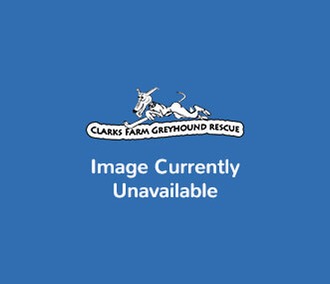 Raised Bowls
£20
Mayfield adjustable raised double bowl stand for food and water.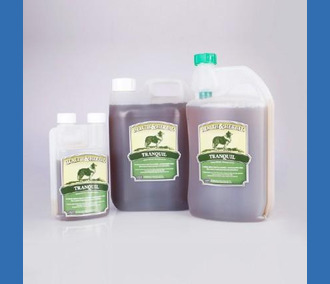 Tranquil
£6+
Tranquil is an aqueous infusion of Valerian. This herb has been used for centuries to effectively calm down the over excited and hyperactive dog, as well as helping a stressed or nervous dog. This is particularly valuable for hyperactive dogs as it does not make the animal 'drugged', but rather calms them down without dulling them.
Suggested daily intake:- Small dogs & cats: 5ml (1tsp), Medium dogs: 10ml (2tsp), Large dogs: 15ml (3tsp), Working & sporting dogs use 1ml/kg of body weight (up to a max of 20ml) per day.

Not intended for use on puppies and kittens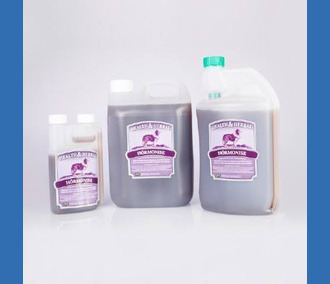 Hormonise
£6+
Hormonise helps to maintain the entire hormonal system. Many dogs, particularly females, at one time or another may go through a moody, 'bitchy' phase, which is often a result of season mood swings. Some breeds are more prone to this than others. Many 'awkward' or badly behaved dogs are just going through one of these phases, and may benefit from Hormonise.
Suggested daily intake:- 1ml per kg of body weight, not exceeding 20ml per day with food. Continue as necessary.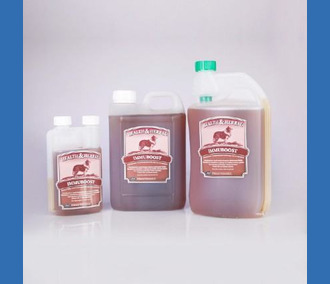 Immunboost
£6+
Liquid extract of Echinacea, one of the most important herbs in general use. Echinacea aids the natural immune system to encourage natural wound healing capabilities.

Suggested daily intake:- Small dogs & cats: 5ml (1tsp), Medium dogs: 10ml (2tsp), Large dogs: 15ml (3tsp), Working & sporting dogs use 1ml/kg body weight (up to a max of 20ml per day. Repeat as necessary. Use over feed.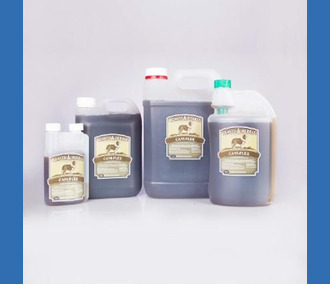 Cani-Flex
£12+
A blend of Glucosamine Sulphate, MSM, Vitamin C and No Bute (Devil's Claw for dogs). Used to maintain healthy joints, it will nutritionally help the body to repair any cartilage lost due to 'wear and tear' etc. Cani-Flex encourages good blood circulation and detoxifies the body.

Suggested daily intake:- 1ml per kg (2.2lbs) not exceeding 25mls per day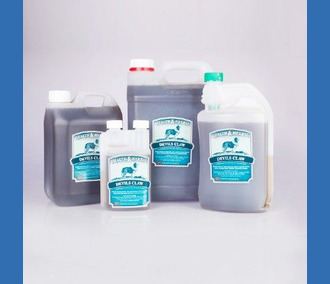 Devils Claw
£6.50+
An essential joint supplement for dogs, Devils Claw reduces stiffness, improves mobility and maintains healthy joints in both dogs and cats, without debilitating side effects.

Providing nutritional maintenance of joints, Devils Claw for dogs is a popular stand in for supplements like No Bute that have a wide variety of negative side effects. Simply add it to your dog's food and see the benefits for yourself!

Suggested daily intake:- Small dogs & cats: 5ml (1tsp), Medium dogs: 10ml (2tsp), Large dogs: 15ml (3tsp). Feed for 7 weeks, rest for 1 week. Continue as necessary.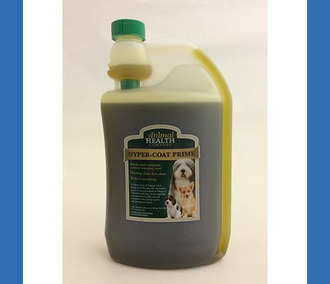 Hyper Coat Prime
£9.99+
Hypercoat Prime is made from cold-pressed Hemp Seed Oil, one of the healthiest food oils available and one of the best sources of Omega Oils (3,6 & 9) which is probably the highest amount available on the market today. Hemp Seed Oil comes from a sustainable source without the use of pesticides or fertilisers and does not contain heavy metals and toxins such as Mercury which can be associated with fish oils from ocean pollution. The Oil is free from any known allergens (Lactose, Gluten, Nuts etc) and is low in saturated fat and makes a substantial contribution to the intake of essential fatty acids which are required for good health.
There are many benefits of Hemp Seed Oil which include:-
•Reduces excessive moulting
•Maintains coat and skin condition and eradicates the itch, scratch cycle
•Attains and maintains a healthy blood pressure
•Attains and maintains a healthy cholesterol
•Nourishes dry skin, blotches and lesions
•Also relieves pre-menstrual stress
•Enhances stamina
Suggested daily intake:- 1ml per kg of body weight up top a max of 15ml over feed. For badly damaged coats and bald spots, massage direct onto skin.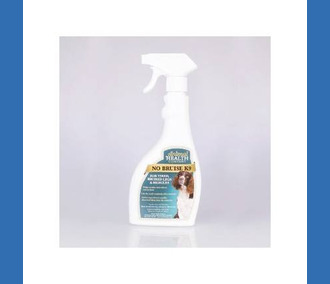 No Bruise k9
£8.50
No Bruise K9 works as both a muscle and joint spray for dogs. A spray that helps soothe and relieve excess body heat, No Bruise K9 is ideal for canine tired, bruised muscles and legs.
Great to use after your dog has exercised or trained. Sold in a ready to use spray bottle for quick and easy relief.
Contains witch hazel and arnica
Suggested use:- Spray directly onto dog, soaking the affected area.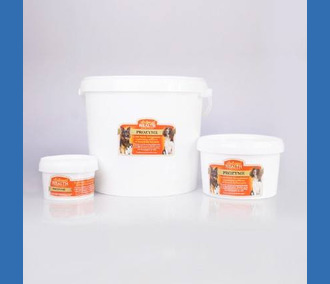 Prozyme
£6.50+
Probiotics are naturally occurring cultures of specific strains of beneficial bacteria. These organisms work together in the gut to assist lactic acid production, producing digestive enzymes to aid normal gut function, aiding the immune system and helping to supply vitamins, nutrients and trace elements.
Prozyme is a Pro-biotic powder containing healthy pro-biotics for dogs and cats, works in the digestive system and overpopulates bad bacteria with beneficial bacteria. The introduction of this bacteria will help to maintain the balance as nature intended.

Suggested daily intake:- 5g (1tsp) daily for all breeds, sizes and ages. Give for 5-7 days or as necessary.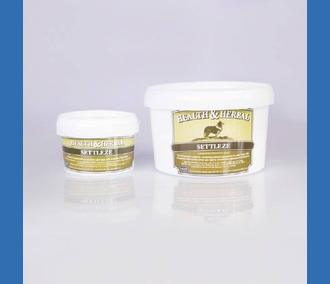 Settleze
£6.50+
Settleze is a dry powder containing a homeopathic blend of Ignatia Amara and Valeriana Officinalis. It is used for calming dogs with excessive high spirits, which can lead to unwelcome behavioral problems.

Settleze can be added to daily food, or placed directly into the dogs mouth, where it will quickly dissolve and be carried into the bloodstream. Initial results CAN be seen within an hour, but all dogs and their personalities are different and some require longer than others.

Suggested daily intake:- Small dogs: 1/2 tsp, Medium-Large dogs: 5gm (1tsp).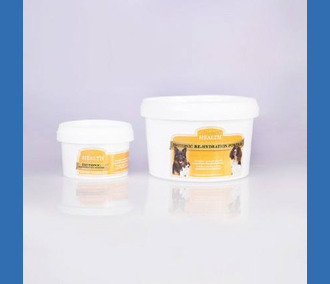 Isotonic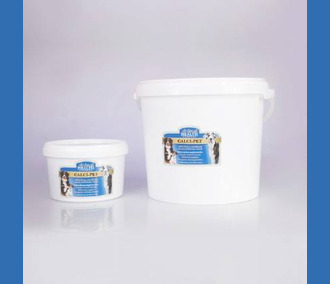 Calci-Pet
£7.50+
100% meat and bone meal. Pure veterinary inspected meat and bone meal, providing a natural calcium enriched supplement. Add to a raw fed diet.

Suggested daily intake:- 1g/kg (2.2lb) body weight ie. 1tsp per 5kg (11lb)
(Made from beef)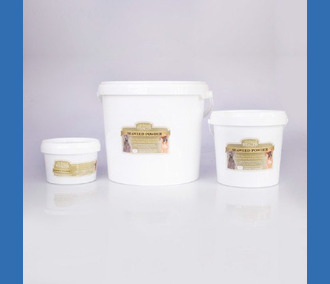 Seaweed Powder
£6.85+
One of the richest forms of plant life, seaweed (Ascopyllum Nodosum) is abundant in health-promoting properties, and as such forms an essential part of any canine diet.

Seaweed Powder is harvested from pollution-free seas, and consists of 100% seaweed. Once harvested the seaweed is stored in seawater to maintain its integrity and superlative health properties. Only removed immediately before being dried and cut, this seaweed powder for dogs retains the utmost purity and balance throughout the entire treatment process.

The primary benefit of this particular seaweed is that it absorbs and array of vital minerals that have been washed into the sea over time. This natural filter allows the seaweed to absorb minerals and trace elements that are vital for a rich and healthy life in the correct proportion.

Seaweed is the ideal dog supplement. Not only do these minerals for dogs improve digestion, allowing the animal to reap the nutrients from its food but, they even aid in improvement of pigmentation.
Suggested daily intake:- Small dogs: 5g (1tsp), Medium dogs: 10-15g (2-3tsp), Large dogs: 20-30g (4-6tsp). Mix with feed.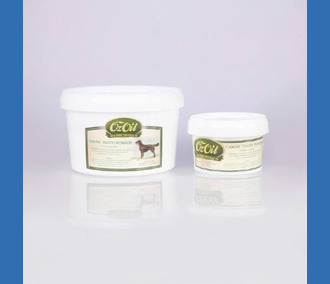 Canine Tooth Powder
£7.20+
Dental hygiene is vital for your dog's health, especially in later years.

A consistent dog dental care routine, using dog teeth cleaning products such as tooth powder and toothpaste, can make all the difference to your dog's overall wellbeing. Additionally, regular use of the OzOil tooth powder can reduce bad breath, eliminate tartar and return teeth to their original whiteness.

This is a popular buy for many dog owners.

Directions for use:- Place a little powder in a small dish, dampen with tea tree solution provided to form a soft paste (alternatively water may be used). Using the finger-brush provided gently rub over teeth and gums. Repeat as necessary until tartar is removed. Older dogs may require more frequent treatment.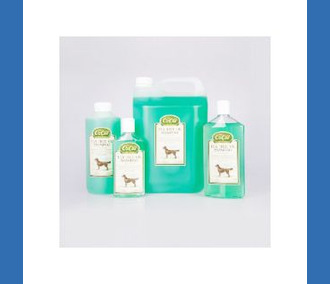 Tea Tree Shampoo
£6.00+
Shampoo with Australian Tea Tree Oil which produces a gentle but complete cleansing action deep into the coat, soothing the coat.

It can be used as a natural insect repellent and has anti-fungal and anti-bacterial properties.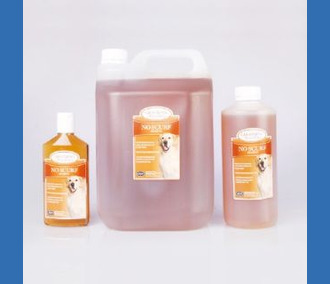 No Scurf Shampoo
£7.50+
A medicated shampoo with pure oil of Rosemary and methyl salicylate for healthy skin and coats. Rosemary oils are known for their natural antimicrobial and antispetic properties.

Aids flaky skin problems. NoScurf is suitable for dogs with itchy and sensitive skin and suitable for greasy coats.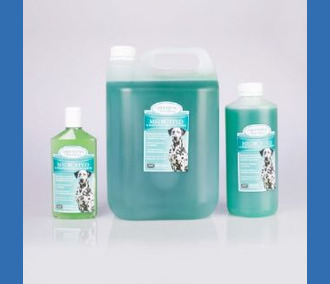 Medicated Shampoo
£5.76+
Medicated dog shampoo for itchy skin and greasy coats. This dog shampoo contains targeted chemicals to help manage dog skin conditions, whilst promoting a healthy coat and hair growth.
Our medicated shampoo for dogs is suitable for all breeds and colours, and it won't soften a harsh coat.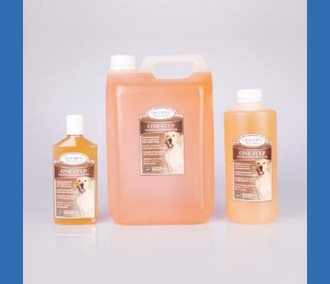 One Step Shampoo
£6.60+
A shampoo and conditioner in one bottle.

One application will clean the coat deep down, strengthen the individual hair shafts and add extra body and shine.

A useful general shampoo & conditioner to use for a regular spruce up, which will leave your dogs coat fresh, fragrant and soft.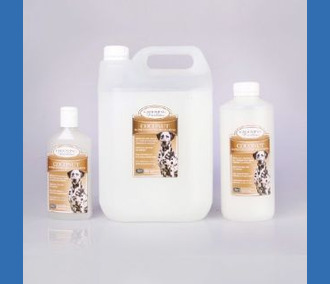 Coconut Shampoo
£5.76+
A superior shampoo that offers the benefits of coconut oil. Suitable for long or short coats.

Coconut oil will not soften a naturally hard coat and also is suitable for cats.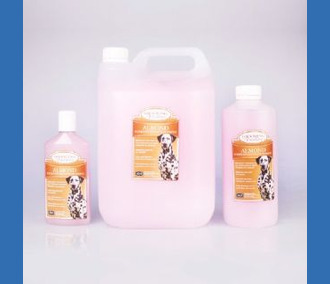 Almond Shampoo
£5.76+
A shampoo enriched with almond which is conditioning and helps to restore natural oils within the dogs coat.

It nourishes the skin and coat, suitable for all breeds but is especially good for longer coated or double coated dogs.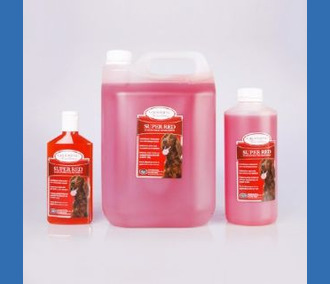 Super Red Shampoo
£5.76+
A concentrated shampoo for use on reds, tans, chocolates and black coats.

This shampoo will help to accentuate the coats natural highlights and make the coat shine out and not soften a naturally harsh coat.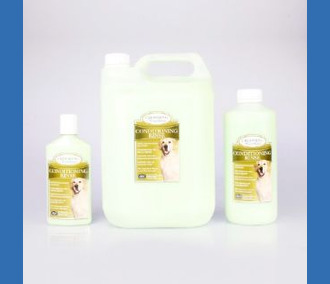 Conditioner
£5.76+
Super concentrated silk finish conditioner.

Will help to prevent tangles, reduces hair shedding and leaves a luscious finish to the coat.

Great for all coats but especially dogs with a longer coat or with a dry brittle coat.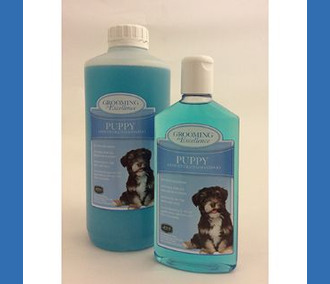 Puppy Shampoo
£7.50+
A specially formulated puppy shampoo suitable for all coats and breeds of puppies.

It is perfect for puppies of all shapes and sizes. This formula is designed to keep your pup clean, without drying out their coat or skin. Our puppy shampoo is also SLS-free which means that it won't irritate your dog's eyes, and it will help to keep their coat healthy.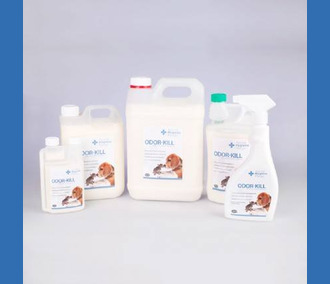 Odor-Kill
£6.50+
Eliminating stubborn pet smells such as dog urine odour and cat smells that cling to furniture, Odor-Kill can get rid of almost any smell around your home. This can be for pet odours, or even other household smells like cigarette smoke, bin odours and cooking smells.
If you have a dog, cat or even a hamster, you'll be familiar with the types of pet smells that can linger around your home and in your furniture. Fortunately, Odor-Kill comes in a handy spray bottle so you can spritz your pets bed, kennels, catteries, stables and toys with ease.

No matter how strong or potent the smell is, Odor-Kill is designed to fight back and leave your home feeling fresh again.
A Powerful Deodoriser with Endless Uses
As well as in a handy spray bottle, we also provide Odor-Kill in 1L, 2.5L, 5L and 20L bottles - so you can use more for larger areas. This product is safe to use with:
Sofas
Patio and stone areas
Artificial lawns
Beds
Carpets (Either in a steam cleaner or carpet cleaner)
Washing machines
Even a small amount in the hoover bag will do away with stale dusty vacuum smells!
Bubblegum fragranced.
Directions for use:- Dilute with water up to 20ml (4tsps) in 1 litre. Many uses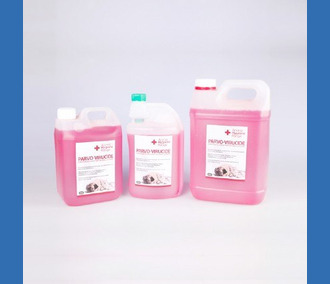 Parvo-virucide Disinfectant
£10.50+
An effective disinfectant for puppies and dogs. Parvo-virucide disinfectant will destroy the organisms causing:-

•Viruses
•Bacteria
•Fungi
•Ringworm

It can be used to safely and effectively disinfect animal cages, kennels, catteries, litter trays, veterinary surgeries, table tops, floors, utensils, equipment etc.

Parvo-Virucide is a disinfectant/cleaner giving supreme germ killing power tested and proven by The Central Vet Laboratory. The recommended dilution of 1:200 is effective against the parvo-virus, recognised as one of the most difficult organisms to inactivate.
Recommended Use & Dilutions:- Apply to all contact areas using a sprayer or mop and bucket, paying special attention to walls, floors, whelping boxes etc. After excess spray has settled the animals may be returned to their quarters, ideally when dry.Read all instructions before use.